Modifications, Contempt And Enforcement
– Understanding Modifications, Contempt And Enforcement
Modifications Contempt and Enforcement
Understanding Modifications Contempt and Enforcement in child custody is important, because dealing with very stressful and intense family matters is never easy! Many times, the final judgment and dissolution of marriage may not end this stress and heightened feelings. In some instances, one party may decide not to follow the court order. As a result, you will need to contact an Alpharetta family law attorney at The Thomann Law Firm to help you determine the right course of action to take to ensure that all parties follow all of the final court orders.
The final judgment of your marriage dissolution establishes rights and obligations for you and your ex-spouse. However, sometimes, follow-up action is necessary due to change in circumstances.
Generally, these actions can be classified into three categories: modification, enforcement, and contempt.
Modifications
A final decree in a marriage dissolution isn't necessarily final. Sometimes, change in circumstances after a final divorce decree might prompt the need for revisiting the final order and requesting a modification.
It isn't unusual for divorces, including alimony and child support stipulations to be modified many times.
The following changes might warrant modification:
Child Support Modification – We can help fathers or mothers with requests to decrease or increase child support obligations.
Visitation Modification – we can help you make a request for visitation modification if there are issues involving relocation, issues that require supervised visitations, or changes in work schedules.
Custody/Timesharing Modification – Neglect of child abuse warrants a request for modifications to child custody. A relocation issue or a change in circumstance can also require a request for modification.
Alimony Modification – With our extensive experience in Georgia family law, you can count on us to help you make your request for alimony/spousal support modification.
Complaint for Modification is an action in which you request the court to make a change to the past Court Judgments. It's the beginning of new action, and you should only use it when there is a need to change permanent orders called Judgments.
You must prove two key things to ensure the success of your Complaint for Modification: first, you must prove a "significant material change in circumstances;" and secondly, you must prove that a change in the order is necessary due to the change in circumstances.
Enforcement
At The Thomann Law Firm, we can help you file a motion for enforcement with the court if your ex-spouse fails to comply with the terms and conditions of the final judgment of your dissolution of marriage.
After delivering a final judgment on a particular issue, the courts can step in to enforce its ruling if one party violates the judgment or order. In family law matters, a party may violate an order requiring him or her to comply with a final judgment in a divorce case or make spousal support or child support payments.
As a way of enforcing its order or judgment, a Georgia family law court can place a lien on the violator's property, garnish the violator's wages, suspend a violator's professional and/or driver's licenses, and enter a monetary judgment for vested arrearages.
If you are owed money as a part of a final judgment or for any support, and you haven't been paid as the court ordered, contact The Thomann Law Firm today to discuss your situation and come up with an enforcement plan for your final orders.
Contempt
Contempt is a willful violation of a court order, decree or mandate. There are two types of contempt: Civil Contempt and Criminal Contempt. Civil Contempt typically applies to issue that arise from family law matters Alpharetta. In these cases, the court can use contempt to compel a party to comply with an order. If a party does not pay child support or attorney's fees and the court determines that there's a willful disregard for the order, the court can bring the party into compliance through various means, including incarceration.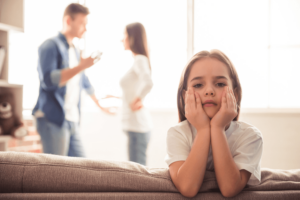 If you're seeking help through a contempt charge or facing a contempt charge, it's essential to consult an experienced, reputable, and professional Alpharetta family law attorney to explore your legal options. Our attorneys are ready to help you make the right decision that will help you in times of need.
Any non-compliance with any order, including temporary orders and final judgments, forms the basis of a complaint for contempt seeking to address the issue.
If you are planning to initiate a Complaint for Contempt, you must prove the following:
There's a valid prior order or judgment;
The defendant is aware of the order or judgment; and
The defendant's willful disobedience of the order or judgment.
In civil contempt, the defendant has to show that he/she is unable to comply with the order. The burden of proof is on his or her side.
A Guardian Ad Litem (court-appointed) may bring a contempt action against a contemnor (defendant) for disobeying judgments and orders involving the custody, care, or maintenance of children.
Probation Officers of the Fulton Probate and Family Court may bring a civil and/or criminal contempt action against any person to collect delinquent payments due to a court order.
The Department of Revenue – There are many enforcement tools for the Child Support Enforcement Division (DOR/CSE), including filing a contempt action to compel compliance with the child support order.
The violation of plans for timesharing (child custody/visitation) and nonpayment of alimony or child support are the most common reasons for filing motions for contempt.
After finalizing a divorce, a family court issues orders regarding alimony, child support, child custody, and visitation. Every party must comply with each of these judgments as long as they're still in place unless the court issues a modified judgment or order.
If there's an issue that requires subsequent action following a final judgment of a dissolution of marriage, you need to contact an experienced family law attorney Georgia to advise you accordingly. We at The Thomann Law Firm are ready to offer you the advice and assistance you need.
Feel free to call us today at 678-389-8581 or fill out our online contact form to schedule a FREE, NO-OBLIGATION consultation.
Practice Areas Of Expertise
At the Thomann Law Firm, we understand child support laws and how to obtain desirable results in establishing new child support orders or modifying existing child support orders
Long after a divorce is finalized, custody issues often continue to arise.  At The Thomann Law Firm, we focus on the children's best interests when dealing with custody and visitation issues.
At The Thomann Law Firm, we will help you navigate the dissolution of marriage process, while focusing on long and short term goals.  We will help you transition into the next stage of your life while protecting your rights.
Are You a Victim of Domestic Violence?
The Thomann Law Firm is available to provide aggressive representation for victims of domestic violence.  If you have experienced abuse or threats of domestic violence, call us today for a consultation.
Division of Property can be a stressful situation. At Thomann Family Law we recognize this and vow to make the process as stress free as possible by handling everything and keeping you informed, and up to date. We will make sure you are adequalty represented.
Spousal support—also known as alimony—is granted during a legally married couple's separation or upon the finalization of a couple's divorce.
Let's Work Together
As an experienced family law trials lawyer I represent you to the fullest capacity. Service area licensed in the state of Georgia. Nearby cities  we service Alpharetta, Cumming, Roswell, Marietta, Atlanta, Druid Hills, Gresham Park, Decatur, Hapeville, North Atlanta, North Decatur, Candler-MacAfee, North Druid Hills, Avondale Estates, Panthersville, Scottdale, Conley, College Park, Vinings, Belvedere Park, Clarkston, Forest Park, Chamblee, Lake City, Mableton, Smyrna, Tucker and surrounding area
Family Law

Divorce

Annulment

Uncontested Divorce

Alimony

Cohabitation Agreements

Collaborative Family Law

Divorce Mediation

Legal Separation Agreements

Marital Agreements

Marital Property Distribution

Domestic Violence

Name Changes

Paternity

Post Divorce Modification

Postnuptial Agreements

Premarital Agreements